Ikea had set up its global office in Bengaluru last year. Early this year, Airbnb launched a new technology hub. So has been the case with ~20 other MNCs which have opened their centers in India in Q1, 2022. Now, these offices are what we call 'Global Capability Centers' aka GCCs. And that's what we will be talking about in this article. Before we deep dive into this, let's understand first what GCC is.
It's easy to imagine an MNC having an office in the country where it does business. For instance, Amazon operates as Amazon India to conduct its Indian operations. But do you think there would be cases where companies have offices in different countries, which may not be their primary market? Yes, they can, and India leads this market with over 50% share!
But why would an MNC set up a center in a country where it might have no presence? Broadly speaking, we can divide any company's operations into core and non-core. While core operations could involve business strategy, sales and marketing, there are non-core operations such as customer support, finance and accounting, payroll etc.
Now, speaking with respect to geography, while an MNC typically runs core operations from headquarters and business units, it can handle its non-core operations and R&D work in other ways. Think about services such as R&D, technology and product development, accounting etc., where there is no geographical relation between consumer demand and the work location.
Either it can perform such work internally at business units (on-shore), or outsource some of it to third-party service providers (typically back-office and IT-enabled services) aka BPOs, or create offshore centers to potentially centralize global operations (Global Capability Centers aka GCCs). Now, this is how GCCs came into existence.
With 1450+ GCCs in India and a talent pool of over 1.4 million employees, our country holds over 50% of the global GCC market share. The market size of GCCs in India is US$35.9 bn and is growing strongly at 11.7% CAGR. As per Deloitte's estimates, they contribute around ~US$4 bn in personal income taxes to the government, which is ~5.5% of total personal income taxes collected. Let's look at some companies (probably familiar ones) that had set up GCCs in India long ago.
Target, an American Retail giant with US$90+ bn revenues, sources its merchandise from across the globe and has over 20 sourcing offices. But in 2005, they had set up their capability center in Bangalore. This office today has more than 3400 employees across technology, marketing, HR, finance, supply chain and analytics. They also have some architects and designers working from this office! Another example would be Texas Instruments (TI), a US-based multinational technology company, which designs and manufactures semiconductors. It had created an R&D center in Bangalore way back in 1985, becoming one of the first technology companies to set up a captive center in India.
Let's take a closer look at GCCs started in India and how we became the market leader.
Birth of GCCs
Among the many stories about how GCCs developed in India, we present a perspective from the Indian IT industry, as the start of such centers can be tied to the creation of call centers and outsourced IT-enabled services.
It was in 1968 that the Indian IT services industry was born with the creation of Tata Consultancy Services (TCS) when an American manufacturing company asked TCS to provide programmers for the installation of system software for their client. Later, with the New Computer policy, which reduced import tariffs on hardware and software, the liberalization policies of the 1990s, and Y2K issues, the Indian IT Industry took a new life.
Thanks to the cheap labor, low real-estate costs, and substantial English-speaking workforce. BPOs in India led many global corporations to outsource their back-office activities to a third-party service provider or set up their own captive centers, marking the birth of GCCs. With this, MNCs have new options to outsource to BPO, create a GCC, or even take a hybrid approach with split operations between the two.
Companies from different industries, including but not limited to telecom, financial services, manufacturing, FMCG followed this business model of setting up such captive centers.
Evolution of GCCs | Moving beyond designated operations
For the GCCs, stabilizing operations with a new team and creating a mode of Business-As-Usual became the first priority. With time, the performance of these centers and the underlying operational SLAs (Service Level Agreements) improved. And with this business model's financial and other benefits becoming evident to the parent firms, these captives started to take in more scope. They started expanding their services from low-end service contracts such as data processing, document management, and customer support to becoming multi-functional centers, including but not limited to finance and accounting, legal, procurement, and payroll. Most of this transition can be related to the movement of work from on-shore to the captive centers. But in recent times, there has been an increasing trend of creating new value-added services to drive business value using technology such as automation, analytics, and cybersecurity.
Companies from sectors such as automotive, hardware and electronics, and telecom conduct their Engineering, Research and Development (ER&D) work through their GCCs. Even here, while it started with basic operations such as product support, digitization of engineering drawings etc., with time, it evolved into more complex and tech-driven work. Now, these GCCs contribute to product design and conceptualization, advanced engineering, Industrial IoT etc. Digitalizing their end-to-end product development lifecycle to improve ER&D productivity is also becoming a priority.
We can clearly see that GCCs have transitioned from starting as offshore centers, performing designated functions (created to leverage labor cost arbitrage) to becoming centers of innovation and IP creation (value generators). They reoriented themselves to become business partners, taking end-to-end ownership rather than just being a back-office.
Take Tesco Business Services (TBS), GCC of Tesco, as an example. Since its creation in 2004, with over a decade of operations, it has scaled its employee size from 500 to over 4000. It manages 70% of the finance processes and 100% of store promotions for its 6800+ stores from TBS. With design thinking and system transformation across multiple geographies, it is able to generate a value that is 3.5x its operating cost.
All this comes with a change in mindset and a focus shift from being a doer and optimizer to becoming a thinker and innovator. This evolution is enhancing India's reputation not just for GCCs but also for the entire Indian IT services Industry.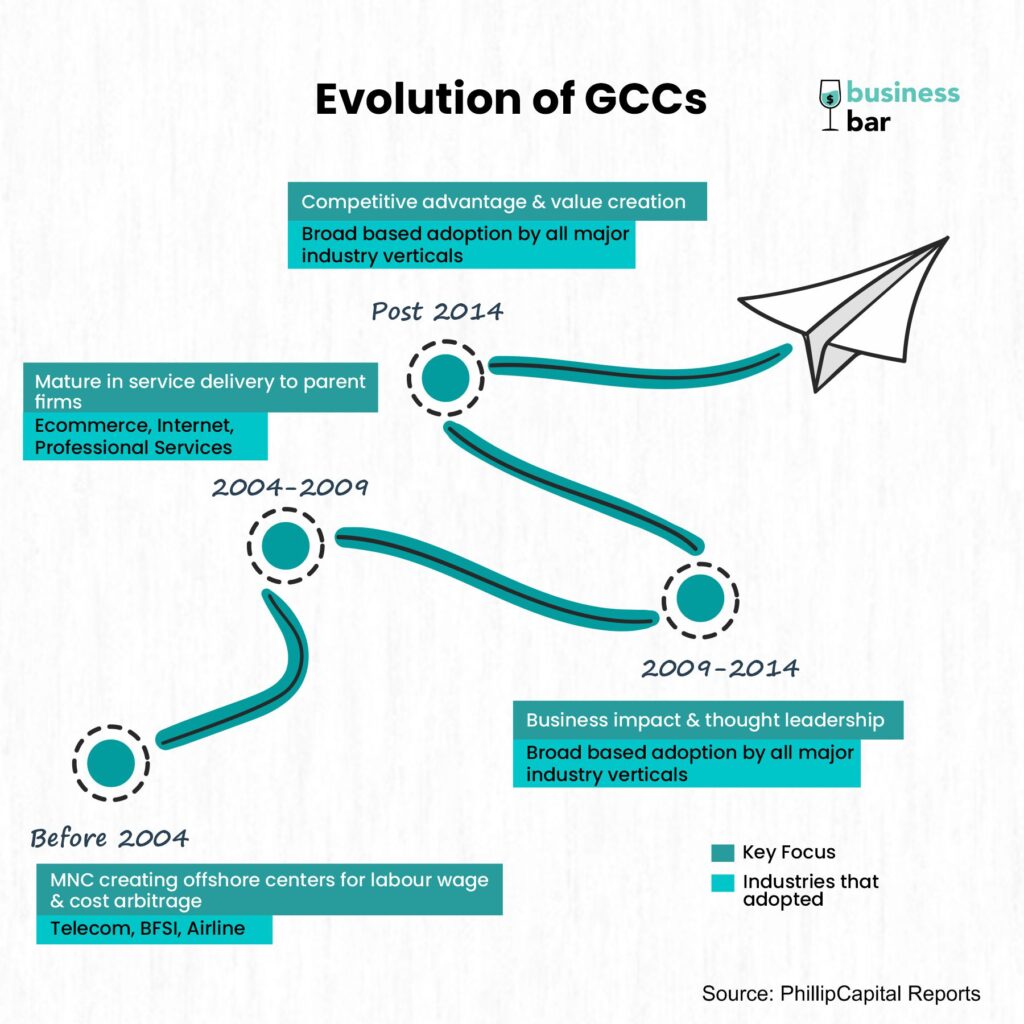 GCC Landscape in India
There are many GCCs from different industries ranging from BFSI (Banking, Financial Services & Insurance), Retail, and CPG to new age industries of software & Internet, IT & semiconductors companies. India has also been attracting global unicorns & soonicorns, with over ten such companies having already set up operations in India. Some of these include Uber, Grab, UiPath & Gojek, and most are setting up centers to leverage India's talent for platform engineering.
66% of all the GCCs operating out of India are headquartered in America, 25% are from Europe, 7% are from the Asia Pacific, and 1% are from the rest of the world.
While ~34% of the GCCs today are located in Bangalore, Hyderabad is catching up as its contender. Among the 20 GCCs set up in Q1 CY 2022, 6 have set up their office in Hyderabad and 7 in Bangalore. With this understanding, let's look at some industries and the emerging trends in those areas.
Recent trends in GCCs
BFSI, a traditional sector, is home to over 80 GCCs and holds over 20% of all the GCC employees in India. Well-known names in this space would be Goldman Sachs, Deutsche Bank, J.P. Morgan, AIG, etc. While the typical functions handled here would be investment banking, asset management, insurance, transaction banking, etc., with the emerging digital world, RegTech (Regulatory Technology) and SupTech (Supervisory Technology) are rising. These tech-based services help curtail non-compliance with anti-money laundering, KYC frauds, and data privacy risks. AI/ML is being used to drive analytics, with use-cases such as financial crime detection.
On the retail side, it was estimated that 80% of the top 100 retail/CPG companies would set up their centers in India between 2021 and 2022. These companies handle various functions, including but not limited to finance and accounting, HR, and procurement services. TBS manages close to £4bn of Tesco's payroll from India. Walmart Global Tech India built solutions such as Smart Substitution, which proposes alternatives for out-of-stock products, resulting in 10% higher customer satisfaction. Smart Conversational Agent and Smart Communications are among other products built to service their customer communications.
While BFSI and ER&D companies lead the pack in the number of GCCs in India, of late, more and more technology firms are setting up their capability centers to thrive on the country's digital talent pool. Out of the 20 GCCs that were set up in India in Q1 CY 2022, 11 are from the software and internet vertical. This trend is mainly because India is becoming a global tech hub, and every other MNC wants to drive innovation from here.
Airbnb, a well-known online marketplace player in the travel and hospitality industry, has set up its technology hub recently in Bangalore to improve the experience for guests and users on their platform. Another example would be Kore.ai, a company headquartered in Florida (US), which is a leading player in the conversational AI domain. It has around 200 customers worldwide and has recently set up its R&D hub in Hyderabad.
Nowadays, any story is incomplete without a mention of 'startup'. GCCs have a tremendous impact on startups in India and vice-versa. Let's look at how this happens.
Startups accelerating innovation at MNCs (through GCCs)!
Most MNCs have their own internal R&D and transformation teams to drive innovation. Despite this, they choose to partner with Indian startups. They cannot ignore the fact that this country has the 3rd largest startup ecosystem in the world (which is also a reason why they are setting up their offices here). These global enterprises are looking towards their Indian GCCs to collaborate with this ecosystem and solve business problems at scale.
GCCs serve as sandbox environments for startups and provide their own data to build and test solutions. Typically, these engagements start as POCs (Proof of Concept) and, in ~5-10% cases, move to scaled deployments, generating exponential revenues for the startups. This way, over 300+ startups each year engage as vendors with GCCs which generate estimated revenues to the tune of US$15 mn for the startups.
Early-stage startups can leverage the corporate incubators, and those at the growth stage can participate in the accelerator programs. There are 40+ structured accelerator/incubator programs run by GCCs, graduating 350+ startups in India each year. Some also run corporate VC programs. As per NASSCOM report, in 2019, equity investments in startups of over US$1.5 bn were made by global organizations with GCCs in India.
Bosch launched its DNA Startup alliance program in 2016 and since then has partnered with over 70 firms focusing on technologies such as AI, IoT, Health-tech, and Industry 4.0. Another example is Shell, which launched its Shell E4 program in 2018 and has been working with energy startups to explore solutions through new technologies.
On the fintech front, India is the second-largest hub only next to the US, and given this, MNCs are looking for investment and collaboration opportunities in this space.
Beer Garage, the global innovation arm of ABInBev, which is a behemoth in the beer industry, has set up its innovation hub in India. Through this program, Aerchain, a procurement tech startup was able to co-innovate and finally deploy its platform to 10 countries in the company's Africa operations. Now, over 6000 supplier suppliers execute over a billion transactions through this platform yearly.
Well, there is a lot brewing in this space. For MNCs, these startups bring in new-age technologies and drive innovation agendas for transformation. For startups, it's an excellent opportunity, as these GCCs already come with scalable global opportunities. It's a win-win for all the parties involved.
Now that we have an overview of the current landscape and emerging trends in the overall GCC ecosystem in India, let's look at how this industry is poised to grow.
What lies ahead
The overall GCC market in India is expected to more than double over the next 5-6 years. This would mean creation of over 700 new GCCs and additional employment for over 7 lakh people. But where will this growth come from?
So, since GCCs are a slice of their parent companies, they account for a fraction of the headcount of the overall organization. The average of this fraction across all GCCs in BFSI is 8%, whereas the best-in-class has a headcount fraction of 14%. Similarly, for certain other sectors, including BFSI, there is a huge gap between the average & the best-in-class numbers. It is (8%, 31%) for IT & software, (3%, 11%) for telecommunication. This means that the existing GCCs have the opportunity and can in-source more high-value work from their parent organizations, which would increase their headcount. If all the existing GCCs increase their headcount to average ratio, it would automatically result in 50% growth.
This trend is evident with companies such as Goldman Sachs announcing to hire ~2500 employees in the next two years to scale its operations. 3M, a manufacturing conglomerate, has also announced to hire 1000+ employees in the next two years for its newly created technology center despite already having a tech hub and design center in India.
While we discussed existing GCCs scaling up in size, we will also see new companies setting up their centers in India. As per NASSCOM, only 300 Global Fortune 2000 companies have their office in India. There is a high probability that this number can increase to 700, with companies in similar sectors realizing benefits like the existing ones.
There is definitely a huge potential but because of rapid transition from cost center to becoming business partner, GCCs are fighting few challenges – Attrition, lack of industry ready college graduates, greater need of upskilling existing employees in order to keep up as a global innovation hub. But figuring its way, being the market leader with over 50% share, India can become the destination of choice for all the new companies.
Article written by Hemanth Raja