The retail business in India is characterized by millions of mom-and-pop stores and highly price-conscious and value-oriented customers. No wonder >80% of the market is unorganized, many players have been trying hard to capture this pie. With thin margins and a highly fragmented customer base, it becomes even more difficult for big retailers to achieve scale and maintain profitability at the same time. Well, not if you are Reliance.
Launched in 2006, Reliance Retail has conquered the market by storm and overtook the competitors by a huge margin. With annual revenue of INR 2.6 lakh crores, it is still growing at a scorching speed of 30% (vs industry growth rate of <10%), which is usually possible for new, smaller market players. Compare this with the annual revenue of INR 43K crores for DMart, 13K for Aditya Birla Fashion and Retail, and 22K crores for Future Retail (in FY20 – before insolvency).
You might already be aware of Reliance's journey from fabric manufacturer to the world's largest refinery. It is not easy for a giant of this size to venture into totally different industries such as Telecom and Retail and capture the market with an agility of a young startup. With Oil and Chemicals contributing ~90% in FY2015-16, Reliance has transformed itself into a conglomerate with 45% coming from other businesses (incl Retail and Telecom) today.
Insane growth story of Reliance Retail
Reliance Retail's competitors are nowhere close in sight. The company has over 18,000 offline stores across categories, compared with DMart's 327 stores or Aditya Birla Fashion's 3,977 brand outlets. Reliance Retail's revenue has grown four times in the last five years and it still growing at 30% YoY with EBITDA margin of 7.6%.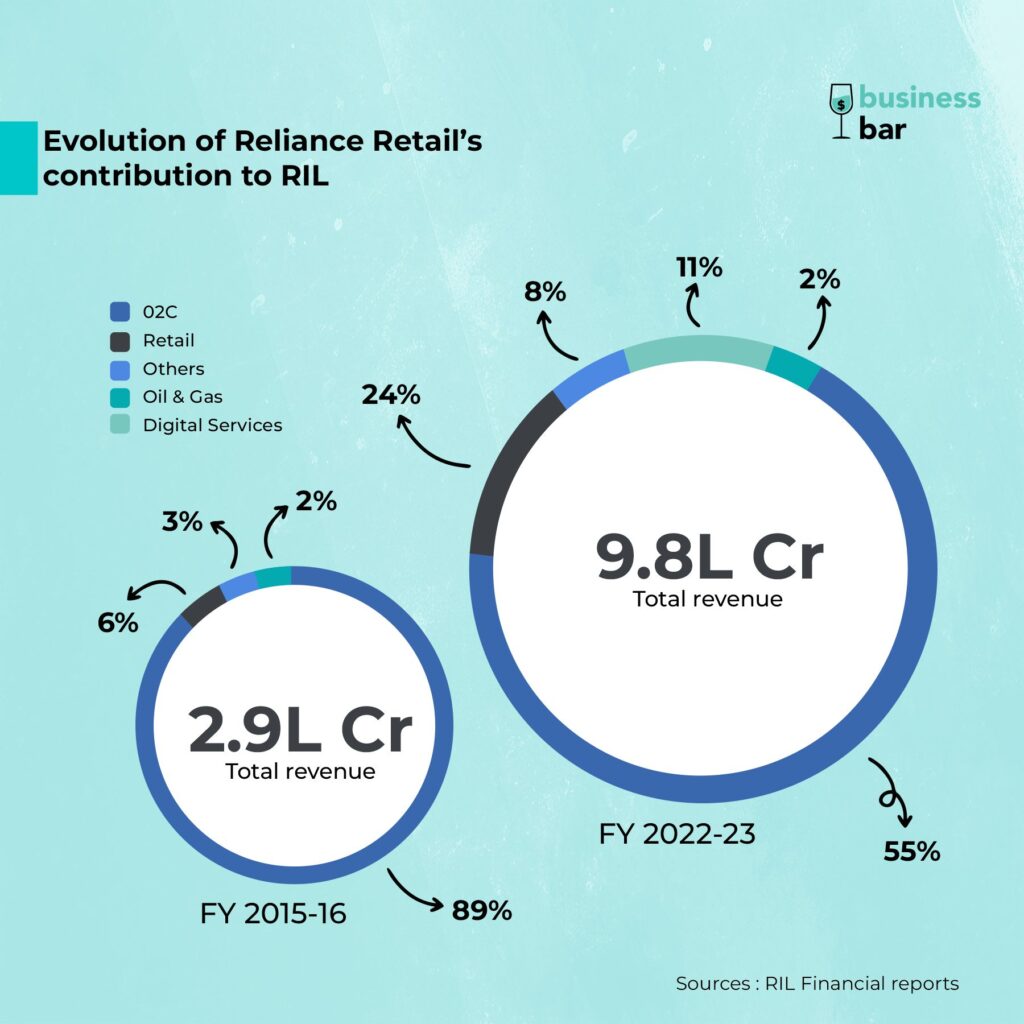 Empire of Reliance Retail
Reliance has a knack for becoming the largest player in whatever business they venture into. In retail, they have Consumer and Electronics, Grocery, and Fashion. They also entered in Pharma retail with the acquisition of Netmeds. Their vast network of physical stores in tier-2 and below cities enables them to reach Bharat consumers. With 500+ Reliance Digital stores, 55% of its Consumer and Electronics revenue comes from Tier-2 and below cities. The Fashion segment has more than 4,000 stores and grocery has 2,400 stores with more than half catering to tier 2 and below. What is more interesting is their art of blitzscaling in both the Telecom and Retail segments. Let us deep dive into their journey in Fashion and Grocery businesses.
Read our article about their journey in Telecom: https://businessbar.net/companyshots/reliance-the-art-of-blitzscaling/
Fashion universe
With 4,000+ stores and sales of 430 mn pieces of garments (in 2022), Reliance retail has become the biggest garment seller in India and targets to become the biggest in the world, thanks to our 1.4 bn+ consumer base. While Grocery and Electronics suffer from thin margins, Fashion compensates with its widest margins of 24%.
Not only offline, their digital platform Ajio is also catching up fast with a 15% market share vs 2 dominant players Flipkart (60% incl Myntra) and Amazon (20%). But despite the scale and speed, it is still walking away with health +ve margins whereas Flipkart and Amazon are still struggling to fight their way against negative EBITDA for their marketplaces. Well, there is a fundamental difference between the 2 – Reliance Retail works on an inventory model, not a marketplace model.
India's FDI (Foreign Direct Investment) policy allows 100% FDI in the marketplace model. Both Amazon and Walmart (Flipkart, Myntra) work on a marketplace model where they sell through affiliate and third-party sellers. Moreover, as per policy, they had to reduce their stakes in affiliate sellers to <25% who cannot be mandated to exclusively sell on the platform. This limits the control both Amazon and Walmart have in the value chain.
In a multi-brand retail model, on the other hand, 100% FDI is not allowed. Meaning, foreign brands/retail sellers cannot open their own multi-brand retail stores. That's where Reliance entered into the market. Since the launch of Reliance Trends in 2008, it has been quietly helping foreign brands enter Indian markets through JV agreements and exclusive partnerships (e.g. Marks and Spencers, Steve Madden, Tiffany, Gap, etc.). The portfolio has private labels, acquisitions (e.g. Hamleys), and 50+ brand partners which they sell exclusively in their stores and their online platform Ajio. And no, this isn't just premium and luxury segments they are catering to, they also have a range of products for India's price-conscious customers. Reliance Retail's Fashion pyramid below would give a better idea of this.

Grocery retailer of India
Reliance ventured into the retail segment in 2006 with its first Reliance Fresh store in Hyderabad. It has come a long way from there, with 2,700+ stores spread across all tiers. Among these, 1,000+ stores were opened in the last 2 years itself. That's more than 1 store every day!
Inorganic expansion
Setting up new stores at such a fast pace is not easy, even for Reliance. They saw a great opportunity in Future group's struggles. It picked up a fight with Amazon, one of the investors in Future Retail, with an offer to acquire its business. Future wasn't able to make lease payments to the landowners. While both were fighting the battle in court, Reliance outwitted the American company by taking over 200+ stores by brokering deals with the landlords. The offer of $3.4 bn failed through because of the rejection by Future Group's creditors, but Reliance walked away with its network of stores and its employees.
Around the same time, Reliance acquired the master franchisee of the global convenience store 7-Eleven, which has a global span of 78,000+ stores and 18 countries. Through a brand that is eponymous with super convenience and affordable food and beverages, Reliance will be able to cater to the young population that values a quick on-the-go shopping experience.
JioMart going last mile with Kirana network
Reliance entered the race of digital commerce with the launch of JioMart and the acquisition of Milkbasket. All of us are already aware of the heavy cash burn associated with online grocery businesses like Tata's BigBasket and Zepto. Out of 4,000+ cities and towns across the country, Bigbasket is operational is 40+ locations, and JioMart currently works at 200+ locations. Reliance knew if it has to survive and conquer this space, it will have to work in collaboration with its biggest competitor – millions of Kirana stores. India has 12-15 million Kirana stores covering every corner of the country. While they can't offer discounts like Dmart on items, they do offer great convenience for daily essentials.
So Reliance launched JioMart Partners program – a new commerce business targeting millions of Kirana stores. Let us understand how it plans to achieve the scale of BigBasket with the profits of DMart.
A customer orders an item on JioMart app, which will be at a discounted price from what they usually get from the nearest Kirana store. Within hours, the partner Kirana store makes the delivery of an item. While Reliance bears the discount partially, how will Kirana store owner be able to offer attractive prices without reducing their margins? – helping them with the sourcing. Kiranas buy the goods from Wholesalers and Distributors, where all these middlemen take their cuts. DMart on the other hand directly buys from the FMCG companies. For example, suppose a Kirana store is buying Ghee at 550 and selling at 625. Now Dmart would buy the same SKU for 500 directly from the manufacturer and sell at 575. Now, JioMart would also source this in bulk for the entire region at 500. Store owners would order this from JioMart Partners app at around 525-500 and will be able to sell the product at 600 to customers. How would JioMart be able to work with lesser margins than DMart? One, by leveraging its current network of 12,000 outlets, and second – with much lesser operating expenses than DMart. Average DMart has an area of 50,000 sq.ft whereas, Reliance won't have to invest anything in the Kirana stores infrastructure. With respect to the likes of BigBasket, Reliance does not spend on deliveries and will have much better inventory management and service time due to deep penetration through the Kirana network.
To gain a strong foothold in the wholesale market, Reliance also bought Metro cash and carry chain for INR 2,850 crores. This gave it access to its network of 31 stores and over 1 mn regular customers. In addition, through various offers and attractive pricing (or predatory?? – which Reliance is quite famous during its market entry) JioMart also onboarded 20 lakhs merchants across 3,500 cities on its platform, adding 1.5 lakhs every month in the last year.
While this may seem very fascinating, implementation is just as difficult. The already established network of wholesalers and distributors for FMCG products is so strong that merchants are still working with multiple middlemen in addition to JioMart. Also, informal credit is quite prevalent in this supply chain – providing credit to so many Kirana stores may not be so easy for JioMart and might affect its competitive advantage due to working capital costs. Since Kirana stores will be responsible for delivery fulfillment, Reliance will not have control over customer satisfaction. This brings us to an interesting question – what's next for Reliance Retail?
Start of the FMCG war (?)
While Reliance is trying hard to take control over the retail supply chain by becoming the retailer as well as wholesaler, it aims to build something even bigger. The next logical strategy for vertical integration would be to become an FMCG company – this is exactly what Reliance is doing.
This year, it acquired a 50-year-old iconic beverage brand – Campa Cola, majorly based in Andhra Pradesh and Telangana. In an open battle against Coca-Cola and Pepsi, it relaunched the Campa portfolio across India. They also forayed into other FMCG categories through partnerships, acquisitions, and private labels such as Maliban (biscuits), Dozodish wash (soap), GoodLife (pulses), Independence (staples, foods), Energy bites (toffee). It also entered Beauty and personal care space with digital commerce platform 'Tira'.
This will further enable Reliance to offer attractive prices to customers and Kirana stores but it's not as easy as it sounds. And this also clearly means waging a war against FMCG giants like HUL, P&G, and ITC who know the consumers better than anyone, thanks to their deep distribution network and decades of experience. How would they react to this? How would Tata react to them entering the consumer, digital commerce, and pharma space? How would digital marketplaces such as Amazon, Myntra, and Nykaa react to Reliance's blitzscaling plans? This does seem like Everything Everywhere All at Once for Reliance. Will they be able to conquer it all or find and dominate a niche in the vast consumer space?