I personally own Bitcoin in my hedge fund, I own Bitcoin in my private account. It's a huge, huge deal. It is gold 2.0.

Chamath Palihapitiya
Not only Bitcoin, but many of the cryptocurrencies have also been among the highest yielding investment products in the last 10 years. And the recent buzz around Elon Musk's tweet, Dogecoin's rapid rise/fall and China's ban caught more attention of the general public. Despite tons of information readily available right now, cryptocurrencies are still a difficult-to-understand topic for the most. Especially the last couple of years have been a wild ride for millions of crypto investors. But that is not what we are going to discuss in this piece. This article is focused only on the Cryptocurrency startups & regulatory stance; & not talking about cryptocoin value fluctuations & NFT buzz. We attempt to give a birds-eye view of the cryptocurrency market and dive deeper into the world of cryptocurrency startups.
Decrypting Cryptocurrency
To understand cryptocurrency & how it is used in financial services, we need to first understand the core on which crypto is built- Blockchain.
Let's start with the very basic- What is blockchain? It is simply a digital system of recording information. The most common application of blockchain is the recording of transactions like money payment transactions. Apart from this, the world has seen many blockchain networks sharing information like flight delay information, manufacturing/transport industry, and medical data sharing.
In the first picture, imagine a laptop/computer instead of the dots, those are called 'nodes'. The data which is shared in the blockchain is called 'block' and the 'chain' is the sequence of entries in this digital ledger. The second image helps in better understanding the 'chain' of 'blocks'. Now, this whole system of sharing information with nodes is called a blockchain.
The differentiating factor of the blockchain system is that each information (i.e. block) is shared & stored with everyone (i.e. every node) in the network, making it transparent. Another unique property of blockchain networks is that the data cannot be deleted or changed, which makes it 'immutable'(really difficult to change). To better understand why it is difficult to change information in a blockchain network, you can refer to this YouTube video. The third unique property of blockchain is that it is run by the nodes, i.e. there is no central authority to regulate & approve the validity of information shared, in other words, the network is 'decentralized'.
Let us now understand one of the applications of blockchain that has been creating a lot of buzz in the world of finance – Cryptocurrency.
Cryptocurrency is like any other currency like Rupees (INR), Dollar(USD) etc which allows a person to buy or sell items, but unlike these paper/fiat currencies, cryptocurrency doesn't exist physically as a paper note or metal coin but only digitally and on blockchain network i.e. it is a decentralized currency which is not controlled/printed by any government or central bank. One of the oldest in this fraternity is bitcoin(BTC). Currently, there are more than 10,000 cryptocurrencies in the market. A few new and rather interesting cryptocurrencies are Dogecoin, Trumpcoin, PotCoin, CumRocket, etc, which also make great content for memes and Reddit.
Quick stories


Birth of Blockchain & Bitcoin (first cryptocurrency): In the year 1991, Stuart Haber & Scott Stornetta envisioned what we now know as 'blockchain'. They came up with the concept of a blockchain network while working to find a way where no one could change the timestamp (YYYY DD MM, HH:MM:SS) of any document which is shared with others in a cryptographic (encrypted) manner. But the real pivotal point in history was when "Satoshi Nakamoto", a fictional name used by the author of the whitepaper to hide their real identity (which is still unknown) published a whitepaper in 2008 about bitcoin (Cryptocurrency) which was built on the underlying technology like the blockchain. And in January 2009, bitcoin was born.
Story of the first bitcoin transaction: In May 2010, Laszlo Hanyecz, a software developer from Florida (USA) posted online an offer to pay 10k bitcoins in exchange for 2 pizzas. After three days, one person did exchange 2 pizzas bought for $35 for 10k bitcoins. And now those 10k bitcoins exchanged for $35 are worth roughly $352 million.
Deep Dive into the world of Cryptocurrency Startups
Since the blockchain and crypto industry is nearly a decade old, there are no industry legacy players unlike in other traditional industries such as manufacturing, banks, insurance etc. But it is safe to still refer to Bitcoin, Ethereum, Litecoin and Ripple as "Legacy" players. Today, the global market cap of all cryptocurrencies is around $1.5 trillion. But don't let these numbers fool you, the crypto-startups market is still in its nascent stage. The crypto startup market size or in other words the total yearly revenue of startups in the cryptocurrency space is expected to grow from $1.6 billion to $2.2 billion in the next five years (CAGR of 7.1%). But with recently increased traction from investors, this expected growth is achieved way sooner as can be seen by Q1 revenue of $1.8B of just Coinbase(Exchange & Trading platform) alone.
Among numerous other possibilities, we discuss some of important types of businesses in the crypto market:
Coins
While all currencies share a common heritage with bitcoin's genesis, they can be divided into different categories, each with a distinct function. Anyone can create their own cryptocurrency coin and today's world is flooded with them. Few other famous ones apart from bitcoin are Litecoin, Ehereum (Ether), Dogecoin. Some cryptocurrencies are attempting to tackle the price fluctuations by attaching their value to a stable asset like gold or US dollar- commonly known as 'stable coins'. The demand for these stable cryptocoins has been increasing, in 2020 the value of stable coins passed $20 billion, with 300% growth year-on-year.
Mining
There are two ways to get a cryptocurrency: Buying or Mining. One can exchange real money (Dollar) with Crypto at some exchange rate like we do for EUR to INR or Dollar to INR exchange. Or one can also do Mining (Earning) – where you solve a mathematical & complex problem to earn cryptocurrency as 'reward/prize'. For example, Mining for bitcoin is done by verifying transactions on the chain & earning bitcoin as reward. Mining startups are either selling Hardware components like high power servers for mining, or software for mining.
Storage (Wallets)
Crypto wallet apps have several business models: Allowing conversion from fiat (paper currency like INR or Dollar) to cryptocurrency; Storing fiat or crypto money; Getting interest rate on crypto (kind of similar to bank deposits); Connecting to a trading/exchange platform; And allowing various other services (like even gambling) from the wallet. Security while storing bitcoins is also important, there have been many cases where people lost bitcoins either due to forgetting their passwords or due to carelessness leading to their accounts being vulnerable. Startups in this space provide reliable storing services both online and in offline form (known as cold storage).
Payments & transactions
Money Transfers: Cryptocurrency transfer from any two locations in the world between any two nodes/users/ people. Unlike in the normal international remittance carried out by banks where banks charge transfer fees and approve/reject our transaction, here the nodes in the blockchain approve or reject the transfer request. Also unlike bank transfers, crypto transfers are not regulated by the government.
Payments services: Startups provide payment gateway services like RazorPay does, allowing Cryptocoins based payments for online shopping or at physical shops. Some startups provide virtual or physical credit/debit/prepaid cards that carry cryptocurrency. ATM services are also provided to enable buying or selling coins at designated locations.
Transaction monitoring & compliance: These are the startups that provide compliance check and transaction monitoring services of cryptocurrency payments/ trade/ exchange.
Banking and lending services: These types of startups work on the model of banking – providing the equivalent of savings account, current account, debit/credit/prepaid/travel card services, loan services against cryptocurrency balance but everything is done digitally and for cryptocurrency coins instead of fiat(paper) money.
Crypto Exchange & Trading
Exchange: Startups offer services of exchanging from one cryptocurrency to another just like we do for real money from INR to USD. Here the exchange is between two cryptocurrencies or from paper/fiat money to crypto.
Trading: Startups offering Trading platforms. Just like the changing stock price in share market trading, here the value of cryptocurrencies with respect to actual money is the variable, for example, if you have invested in bitcoin trading then you will check the variation in the value of bitcoin per USD.
Custodian: Startups offering services where you can store your cryptocurrency.
ICO (Initial coin offering) management: Initial Coin Offering is equivalent to IPO. ICO startups allow you to buy tokens (assets) when a Cryptocurrency startup goes public.
To better understand the startup funding landscape around the world, below is the graph showing the number of deals per year & funding amount in cryptocurrency and blockchain startups. From this, we can clearly see a spike in investments as well investment amount for 2018 and now in 2021.
Andreessen Horowitz (a16z, Silicon Valley VC) recently published in Apr 2021, about their plan to raise funds of $1 B to invest in cryptocurrencies & Cryptocurrency startups, where a16z already has two crypto funds with $800B plus assets under management(AUM). Apart from a16z, some other notable Crypto focused VC funds are Digital Currency Group (Nexus of Blockchain & Finance), Pantera Capital (Invested in Circle, Ripple & more), Coinbase Ventures (Invested in InstaDApp & more), Union Square Ventures and Polychain Capital(Invested in CoinDCX & others).
With increasing awareness about crypto in the market, companies are also realising the need for crypto adoption. Some of the famous companies have already started accepting payments in cryptocurrencies. BMW allows customers to buy their cars in England and Canada dealerships using cryptocurrencies. Tesla made a $1.5B investment in bitcoin in Feb 2021, following which Elon Musk tweeted about the allowing the use of crypto to buy Tesla cars in the US in March this year which he quickly retracted again via a tweet in May 2021. Apart from car manufacturers, famous fast food companies also allowed crypto based purchase of food items in 2020, some notable ones include: Burger King, customers can pay for their burgers in crypto at Venezuela outlets. Likewise for Coca Cola, people in the Asia Pacific region can buy some of their products via crypto. Pizza Hut also joined this trend for their Venezuela outlets allowing customers to buy pizza via crypto payments.
Indian Crypto Market
As per a survey of citizens across countries asking them about their use of cryptocurrency in the past one year, to understand the 'commonality', India ranked 7th which suggests the comfort of Indian investors in use of cryptocurrency. India has approximately 10 million investors holding around $ 1 billion in crypto investments out of approximately 100 Million global crypto investors. To understand the Indian cryptocurrency market further we have listed few top-funded cryptocurrency startups in India below:
Other Indian crypto startups are– CoinGeto (Exchange platform), Koinex (Exchange platform), Coinsecure (Exchange & trading), DUSD (Coin), ZebPay (Bitcoin wallet), BTCC (Banking ecosystem), Ethereum Push Notification Service (Push notification), Nuo Network (Crypto backed loans), Mudrex (Trading), NFT Alley (Trading), Bank of Hodlers (Banking service) and many more.
Notable Angel investors for Indian Crypto startups are Naval Ravikant (CEO of AngelList), Mark Cuban (Billionaire & Shark Tank TV show) & Kunal Shah (CRED founder). Apart from these individuals, notable Venture capital firms who are investors are Sequoia Capital India, Tiger Global Management, Kalaari Capital, Blume Ventures, Ribbit Capital, Robot Ventures, Pantera Capital, Coinbase Ventures, Mumbai Angel network and more.
If we compare the quality and quantity of crypto startups in India with those around the world, India still lags behind in adaptation of applications of crypto. Some of the key reasons for such low adoption include lack of knowledge and expertise among ecosystem players, scarcity of funding, lack of government support and unclear regulatory take. Given its potential to replace traditional currencies, governments especially are going to play an instrumental role in shaping the future of cryptocurrencies. Next we take a deeper dive into the government and regulatory actions in India and around the world.
Monetary Freedom vs. Government Regulation
Cryptocurrency has seen a lot of action in India. But up recently there has been a sudden growth and dip. Just take the example of an Indian platform WazirX's investment traffic from Dec'20 ($500M) to Apr '21 ($5.1 Billion). But with the recent ban by China on crypto in any form in the country created a frenzy in Indian investors as well. Many are anticipating RBI's proposed bill earlier this year about banning all private cryptocurrencies in India and launching their own called 'Central Bank Digital Currency' (CBDC).
Why do governments fear cryptocurrencies though? Well, not only does the decentralized nature of cryptocurrencies threaten the government's authority but it also brings the possibility to circumvent the regulatory controls paving the way for money laundering and other such illegal activities. With increasing talks around the inevitability of cryptocurrency adoption, governments around the world have started taking different courses of action. Here is a brief snapshot of important actions taken by the different governments & startup milestone.
I see Bitcoin as ultimately becoming a reserve currency for banks, playing much the same role as gold did in the early days of banking. Banks could issue digital cash with greater anonymity and lighter weight, more efficient transactions.

Hal Finney, Cryptographic activist and first Bitcoin recipient
Key points for India: (as of June 15th, 2021)
– Cryptocurrencies in India are not illegal (i.e. they are legal); anyone can sell, buy, trade them in India.
– It is unregulated. India does not have any regulatory framework to govern its functioning
– Crypto transactions are taxed in India.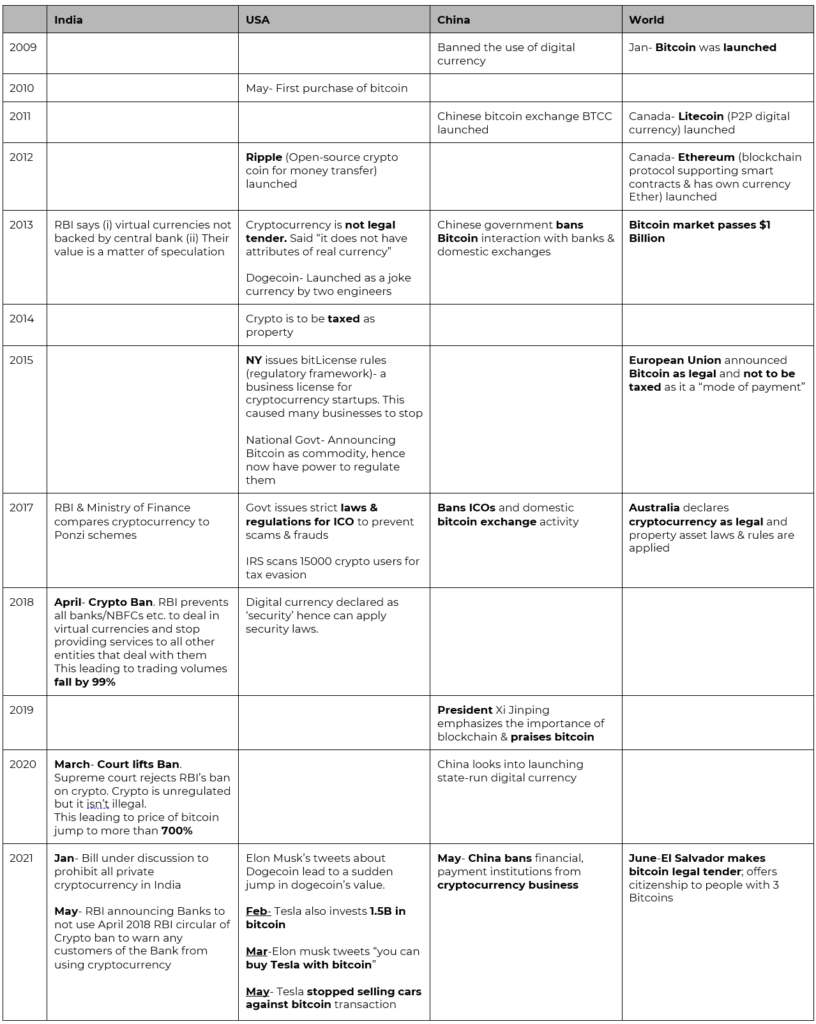 Regulatory suggestions & Road ahead
With increasing applications and awareness of cryptocurrencies, we are now waiting for the 'era of flourishing' which cannot happen without the support and clarity from the government. The reason why governments have been apprehensive of cryptocurrencies is that they threaten the government's power position when it comes to money. As cryptocurrencies are decentralised, they do not need a central authority (Central banks like US Federal Reserve, RBI, Bank of England) to regulate them.
Governments can no longer be a fly on the wall, they have to come into the picture with some robust policy measures. Countries like Switzerland, Australia, UK, Japan and the US are ahead of us & have laid down laws with an overall positive attitude of crypto adoption for taxation, monitoring, compliance and most importantly for frauds. While some have already started on this path, India still lags far behind in terms of the comprehensive regulatory framework.
Experts suggest the Indian government call 'cryptocurrency' as 'crypto asset' so as to apply existing tax, rules & laws of 'assets' and also to allow and monitor local (Indian) crypto-asset startups for trading and exchanges. Apart from this, separate tax and checks to prevent money laundering and illegal activities via crypto payments can be implemented. For this, the Government should focus on defining the blockchain system, cryptocurrency along with a list of suggested DOs and DON'Ts while investing your money in crypto to avoid people putting a huge amount of money at once and sometimes end up losing all. One of the main reasons behind the volatility of cryptocurrency is people putting a lot of their money at once in "rising" crypto, creating a bubble and subsequent sudden dip. To avoid this, the Government can keep a cap or monitor such investors through regulatory and monitoring bodies.
Can Indian government ever do something similar to what El Salvador did in June 2021? With no official currency of its own, El Salvador made bitcoin legal tender and started offering citizenship to people with 3 Bitcoins. Let's wait & see what the future of cryptocurrency holds for Indian market and its startups.
This article is co-contributed by Prachi