What is Social Commerce? – Solving for the next 300M
In India, there are 400M+ monthly active users (MAUs) on Whatsapp, while e-commerce sites like Amazon/ Flipkart are restricted to catering to their ~100M MAUs. There is an obvious deficiency in the number of people engaging on social media v/s transacting online. While there are several factors that can be attributed to the 300M gap, it is beyond doubt that catering to folks who are not online transactors has become crucial for a lot of internet consumer companies. After all, without broadening this pie, there are only so many ways in which these companies can continue to co-exist and thrive. So for e-commerce and social media companies alike, has social commerce become the answer to their pie question?
Let's start by understanding what social commerce is – in simple terms, social commerce is the process of enabling e-commerce transactions in an environment that aids social interactions. Quite similar to if one was shopping offline, where there'd be multiple interactions between the buyer and seller, as well as, with the buyers' network. The philosophy behind most social commerce companies is to closely replicate the offline shopping experience, such that even the naysayers to online purchase can easily and comfortably be onboarded into the e-commerce ecosystem.
Infact, theoretically speaking, social commerce is not new, since several small merchants/ entrepreneurs have used WhatsApp to enable their transactions for quite some time now. Yet it is only now that the official formal journey of social commerce has begun in India.
Social Commerce (S-comm) – A unique blend of E-commerce & Social Media
Today, S-comm in India represents a $1.5 – $2B gross merchandise value (GMV) market. Nevertheless, by 2030, we are looking at a $70B worth market, at least twice the size of the current Indian e-commerce market. Quite frankly, the number is staggering, and it is without a doubt that there is still a lot of room to grow, since e-commerce itself, even today accounts for less than 5% of the overall Indian retail market.
Although, a lot of S-comm companies claim to have unique business models, they majorly only have two kinds of genesis stories. Either they start off as a social media site, much like FB/Instagram etc. and then add an e-commerce layer on top of it. Or they start off as an e-commerce company like a Flipkart/Amazon, Meesho etc., while embedding social features into their platform. In both cases, the loop is closed such that a user does not leave the ecosystem to complete a purchase. You see, however, the key advantage for the former type is access to the non-transacting consumer base, since they predominantly started out as social media platforms.
Within these two large business model archetypes, there are a plethora of diverse business forms. From social reselling, group buying, video led shopping, C2C commerce to social media sites incorporating e-commerce elements, there is no dearth of startups claiming their 15 minutes to fame. Examples of well known S-comm companies in India include Meesho, Dealshare, CityMall, BulBul Shop, GlowRoad etc.
Circling back to business models – will one succeed over the other, in the long run? We don't know and perhaps, only consumer behavior, VC capital and competition will tell us how S-comm will emerge.
Consumer, Capital & Competition – The Deciding Trifecta
As of now, S-comm has chiefly taken off among the mass market, especially within Tier 2 and 3 cities. The bulk of this landscape is actually made up of unbranded long tail, mass market products, where the average order value is often less than INR 250. Why? Tier 1 cities do not have a dearth of product discovery options, meaning they can easily find and access diverse types of products. Along similar lines, consumers from Tier 1 cities rely less on aspirational connect with influencers and more on their love towards branded products. On the other hand, households in Tier 2 and 3 cities represent the exact customer persona in terms of income range, high value drive (low brand affinity + cost consciousness) and preference to assisted buying, through someone they trust. As of now, fashion is the most frequently purchased category in the S-comm ecosystem, followed by emerging beauty/ personal care and food and grocery categories.
S-comm funding frenzy in India has officially reached an all time new unyielding peak. S-comm startups have cumulatively raised $554M, in the first 7 months of 2021 – the highest since 2015 and a phenomenal 7x increase, as compared to last year. To many, 2021 will be the year when S-comm reaches escape velocity and emerges as the next variant of online shopping. The Captables of most of these startups is splattered with names of top tier investors like Sequoia, Accel Partners, Omidyar Network, Naspers, Elevation Capital, Kalaari Capital, CDH China, Korea Investment Partners, Tiger Global, SoftBank, and even Facebook. All this and more, inherently indicate that these investors are extremely bullish on the sector and consider it to be the growth engine for onboarding the next flock of Indian online shoppers.
DealShare, an Indian group buying platform, recently closed a $144M Series D round, led by Tiger Global and others, bringing its valuation to a little less than half a billion. If the recent news is anything to go by, it is yet again in the market trying to raise a fresh round of ~$150M, at more than $1B valuation. A 'soonicorn', on an accelerated path to becoming an unicorn! CityMall, another group buying platform, raised a $22.5M Series B round from investors like General Catalyst, Jungle ventures, Accel, Elevation and others. It was in April this year, that the new $300 M Series E round of capital infusion skyrocketed Meesho into a unicorn company, valued at $2.1B, a 3x increase as compared to the last round. The sector recently witnessed a small episode of consolidation as SimSim was bought by YouTube for ~$70M and Shop 101 was acquired by InMobi, a Google funded entity (for a deep dive on app wars among homegrown TikToks, read our piece here).
Fun fact – In 2019, Facebook put in a $25 million check in Meesho, a Y combinator backed social reselling platform. This was Facebook's first ever Indian startup investment, aside from Zuckerberg's investment in Byju's in 2016, through the Chan-Zuckerberg initiative!
It is apparent beyond doubt that investor sentiment behind the sunrise sector has ushered in a great degree of competition. The ubiquitousness of behemoth internet commerce and social media companies does not go unseen even within S-comm space. Amazon has been tinkering with S-comm since 2017 and has recently turbocharged its entry through Amazon Posts and Live. It is but a matter of time before they look to conquer India too. Conversely, Flipkart has already launched Shopsy, a zero commission marketplace for sellers and Facebook too rolled out Facebook shops, to allow brands/sellers to sell online via live streaming and other avenues.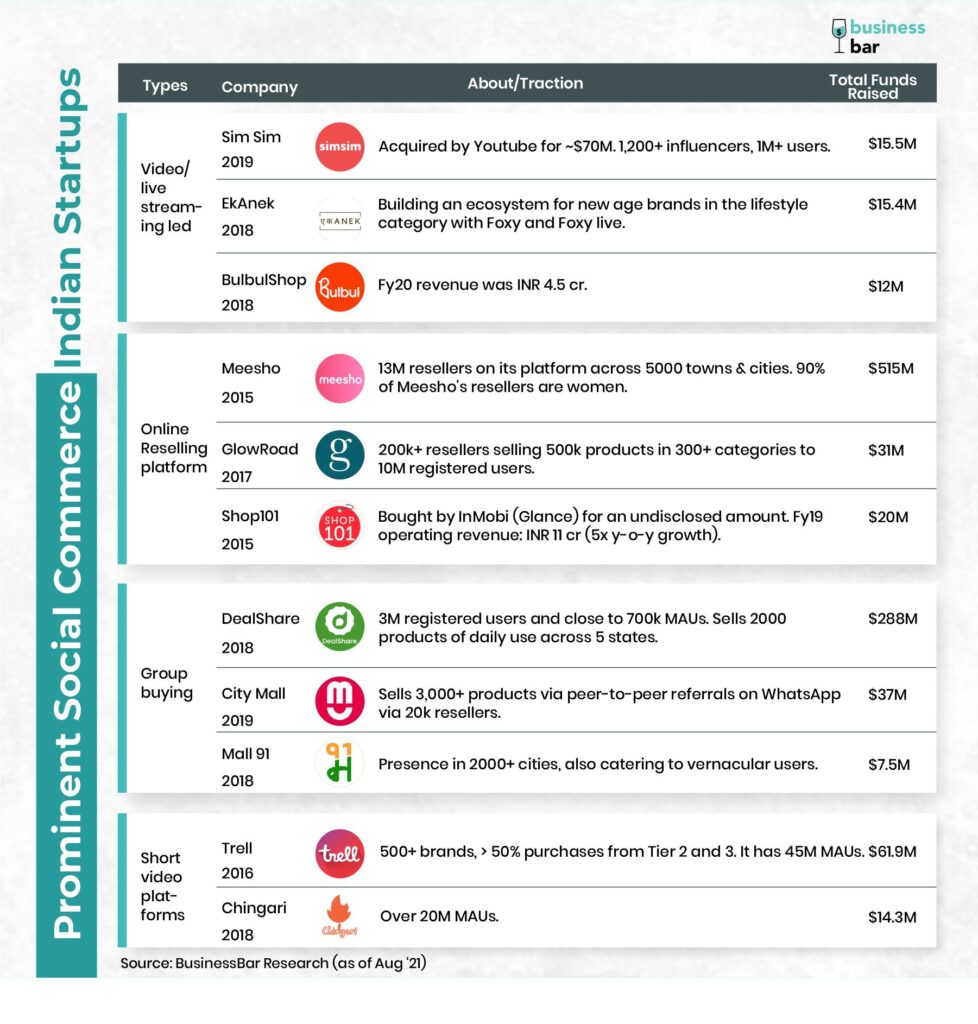 Social Commerce Thesis – More hype = Less logic?
But does the investor hype make sense, in reality? Take Meesho for example, in 2020 while its net revenue increased by 4x to INR 307 cr, it's losses continued to rise by almost 3x to INR 315 cr. The cost structure in fact was dominated by logistics and fulfilment costs of INR 254 cr and advertising cost of INR 217 cr. On top of these, imagine having sizable fixed and manpower costs – thus all in all, stewing up a perfect recipe for terrible unit economics. In comparison to incumbent e-commerce companies, even the leader within S-comm has a long path ahead to achieve economies of scale, profitability and sustainability. Much of this trickles down to the fact that the commission paid to Meesho is in single digit %, owing to significant chunk of reseller commission, as opposed to a 15-20% charged by Amazon/ Flipkart. Meesho has also been a witness to an onslaught of other problems like counterfeit products, consumer trust in brands, diversification/expansion of revenue streams. 
This leads us to believing that the investment frenzy can mostly be attributed to immense hopes of emulating success stories of China. As The Ken writes – "It is a 'Hindi-Chini Buy Buy' model if you will, where Indian social e-commerce startups can replicate the enormous success of Chinese exemplars like Pinduoduo." Pinduoduo went public in 2018, raising $1.6 B through the offering and today has a market cap of ~$118 B. But even the Chinese social commerce ecosystem faces uncertainty as regulatory risk intensifies, resulting in two digit billion dollar losses in Pinduoduo's market value. Other not so eminent S-comm companies are still struggling to achieve a sustainable business and have seen the short end of the stick already.
On an absolute number level, the parallels between the Chinese and Indian retail/e-commerce market are not quite strong. China's e-commerce is one of the largest sectors globally with sales in the order of >$1.7T, with e-commerce penetrating almost 30% of the total retail market (read more about one of the biggest e-commerce event sales in China here). This is despite the fact that 56% of the Chinese population is yet to make their first online purchase. S-comm in China is already seeing a GMV of upwards of $570B. Comparing this to India, seems factitious, since e-commerce is currently at ~$38B GMV, accounting for less than 5% penetration in overall retail. India's current $1.5-2B GMV S-comm market is forecasted to reach $70B by 2030. While it is beyond our scope to question the brains behind the market sizing activity, one cannot help but wonder whether S-comm can truly ride its wave to the $70B mark? 
Well, who are we kidding, logical or not, a double digit billion dollar is more than enough to get a lot of stakeholders excited and hungry – which is exactly what we are seeing today! Plus, learning from thy neighbor's billion dollar mistakes is after all a way of expediting startup evolution journey.
Road Ahead for Social Commerce – A New Marriage of Offline and Online Worlds
Businesses have a cyclical pattern of peaks and troughs. When an ecosystem is not at the apex, it often taps into its earlier pattern of consumer behavior, in hopes of getting back to its golden years. Digressing slightly, remember those bell bottom pants, which were in vogue in the 70s, then went away into oblivion and have come back in its full glory, again? Similarly, it should come as no surprise that while the first generation of e-commerce and D2C brands tried to do away with middlemen and resellers, the second generation of social commerce companies are reverting back to that dependence. However, now, a different wheel has been set in motion, one that has realized the inherent power of selling as a trust based activity, governed by human relationships in an omnichannel way. The key to omnichannel transactions is tapping into existing physical touchpoints. For consumer products, if not the 13M Kirana store merchants, then who? Sound familiar? Does it not sound a lot like the tech enablement of our beloved Kirana store? Guess who are the common tech actors in the Kirana and S-comm space? Of course, the omnipresent, Facebook and Amazon! (Read more on Kirana goldmine here.)
In a surprising twist, down this winding road, it does appear that the marriage of online commerce and brick and mortar Kirana, might be convened by S-comm. We are not soothsayers, but this much is clear, S-comm is a force to reckon with, that is, if it solves for its many (many) challenges.