The world is a fast changing place. Technology is redefining the way we do a lot of things. Banking, shopping, connecting with loved ones or simply setting alarms (that most of us snooze over and over)! But there are still some things that remain the same today like for example tables, chairs, beds, and all other furniture. Look around and you'll find some around you, and so could your grandfather when he was your age.
Well, that's not to say that the furniture industry is not evolving. It has been and here's a company that has been leading this revolution for over 7 decades now. And today, we're going to see how and why.
How Big is IKEA?
IKEA is a behemoth. The scale of IKEA's operations can make anyone awestruck. As of 2020, it had 445 stores in 59 countries spread across 5 continents. Just 445 stores, you wonder? Well an IKEA store is not just any store. Regular retail stores can be found in malls, but IKEA stores are so huge that they could probably fit average-sized malls inside them. Yes, an average IKEA store is 300,000 sq. ft. in size. For comparison, that's almost double the size of a large Walmart store which are notoriously famous for their huge size.
In 2019, more than a billion people visited IKEA stores around the globe. Even after the global lockdown in 2020, IKEA saw 800M visitors coming in through the doors of their stores. Their online website has more than 3.6B yearly hits.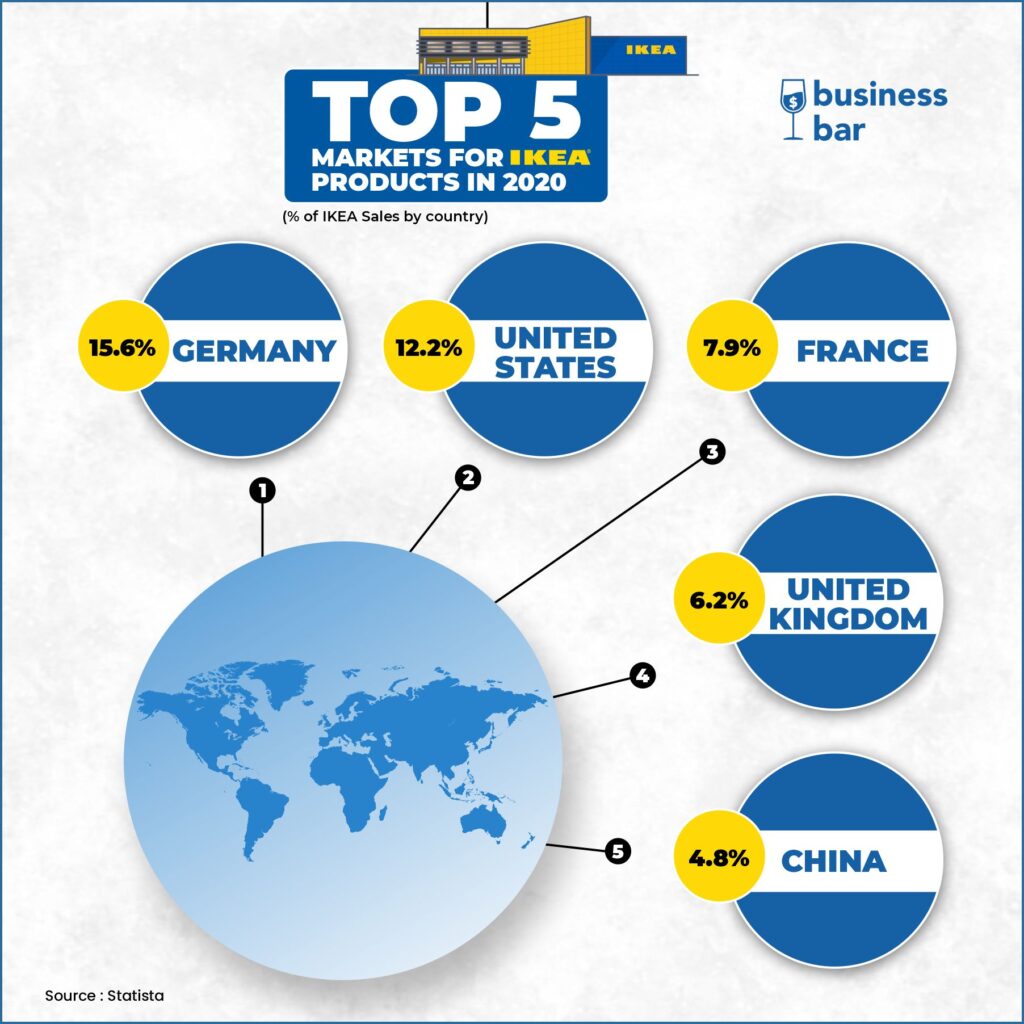 With 12,000 products in the furniture, kitchen and home appliances category, IKEA today does $45B+ in annual revenues. That translates to ~$100M in revenue per store. IKEA has been growing steadily and has grown its revenue to 4 fold in the two decades from 2001 to 2020.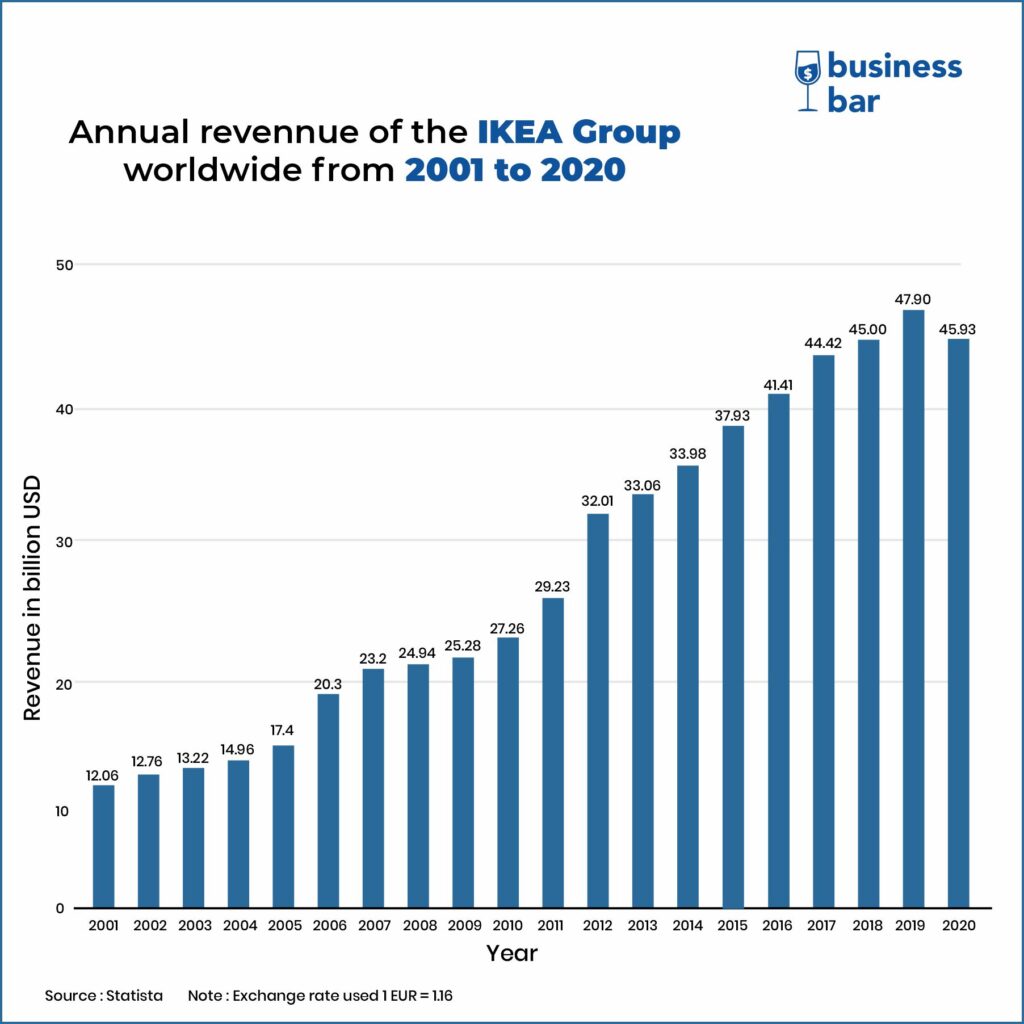 The valuation of IKEA is something that is anyone's guess. As the company has always been a private company and there have never been even rumors of its acquisition, there are no concrete valuation numbers for the whole company. Media houses also prefer to report the brand value of the IKEA brand instead of the whole company's valuation.
The coronavirus pandemic did cause jitters for IKEA as well. 75% of locations were closed at the peak of lockdown restrictions and subsequently, the disruption in the supply chain is obvious for a company that moves physical goods across continents. This caused IKEA sales numbers to drop y-o-y for the first time in the 21st century. Even with all that, the revenues fell only by an odd 4%. In fact, IKEA believes that the systemic change that the pandemic has brought to the way we live will serve as a tailwind for them. After all, in a world with an increasing 'work from home' culture and people inevitably spending more time at home, IKEA believes that more people will use their products to turn their houses into homes!
Who owns IKEA?
IKEA was started by a then 17-year old boy named Ingvar Kamprad (In-var Kamp-rad) in Sweden, back in 1943. Initially, he started with selling just match-sticks but kept expanding the range ever since. His vision and execution for the company put him into the league of biggest business magnates the world has seen in the last century. You may call him the Steve Jobs of the furniture world. Ingvar held the helm of the company for more than 7 decades before passing away in 2018.
So does Ingvar and his family own the majority of the company? Well, yes and no!
The corporate structure of IKEA is one of the most iconic examples of a complex web of holding companies, subsidiaries and charitable foundations spread across different jurisdictions in Europe. To cut the long story short, when you go up the corporate structure of IKEA, you'll end up with two charitable foundations in the Netherlands and Lichtenstein. And the money from these companies can only be either used to fund the operations of IKEA or donated to charities. This also means that Ingvar and his survivors could not use the funds for personal benefits.
This complex structure of IKEA has confused even the biggest media houses. Forbes reported Ingvar's net worth to be $23B in 2010, but revised it down to an odd $3B in 2016, owing to the question of whether or not the corporate structure gives Ingvar the claims at the company's proceeds. During the same time, Bloomberg Billionaire Index listed Ingvar as the 8th wealthiest person with a $58B net worth, no wonder IKEA's ownership is a confusing mess!
But why would a company prefer such an ownership pattern? Short answer: control and taxes!
With such a complex holding pattern with entities based in all of Europe, it is almost impossible to do a hostile takeover of the company. And with the use of charitable foundations, IKEA is believed to save at least hundreds of millions of dollars in taxes every year.
Ingvar always had a vision for the company and never really liked the idea of making decisions under external pressure. That is one reason that the company never went public.
"I decided that the stock market was not an option for IKEA, I knew that only a long-term perspective could secure our growth plans and I didn't want IKEA to become dependent on financial institutions." – Ingvar Kamprad about the idea of taking IKEA public.
Business Strategy: What makes IKEA 'IKEA'?
Calling IKEA simply a furniture retailer would be an oversimplification, as well as an insult to founder Ingvar Kamprad's vision and efforts for the company. IKEA is nothing less than an experience.
As soon as you enter one of the gigantic stores, you find yourself in a mesmerizingly beautiful maze with gorgeous pieces of furniture and home appliances all around you. The design of the store layout is created in a way that it does not let you leave the store, before having a look at almost all the products that are on display. In case you find yourself on an empty stomach, you'll probably find the biggest restaurant around in the same building. IKEA is known for its food around the world. Swedish Meatballs is the most popular item worldwide and IKEA is estimated to sell 1 billion of them every year.
Once you've finalized the products you wish to buy, you'll have to visit the warehouse which will likely be downstairs. There you'll be handed over your item in flat packaging. A packaging with sharp edges and so neatly done that you might have a hard time believing that it contains the same artistic sofa or table that you bought.
The IKEA shopping experience doesn't end there. Once you reach home, you're in charge of assembling the product from that flat packaging into the aesthetic piece it is supposed to be.
So what part of the 'IKEA experience' makes it stand out? Well, everything and here's how:
Store Layout
IKEA's store layout is a "fixed path" design — there's a designated road that you must follow, and it guides you through the store in one direction. In most stores, customers only see about 33% of the merchandise on offer. But IKEA's fixed path approach means you stay in the store longer, and you get exposed to most of the brand's products.
While you're on this journey guided by nudges such as light projected arrows, there's a lot going on to play with the emotional part of your brain. IKEA USA's creative director once said, "20% of our buying decisions are based on logic and needs. 80%… are actually based on emotions." To enhance these emotions, customers are overexposed to light, sound, color, texture, and even smell in the store.
One example of this is the abundance of mirrors throughout the store. Mirrors help IKEA play to your inner narcissist – when you look into the mirror, voila, you see the most beautiful face! This kindles a feeling of love, love for yourself, love for yourself at that very place. And before most buyers know, they've forgotten why they are there and now are happy shoppers that'll most likely make the purchases, they never intended to.
Cost and Design
At IKEA, the price tag comes first. Not for the customer, but for the concept developer. That is, whenever someone at IKEA starts to design one of the 2000 new products added every year, they are given a price point for the product. This policy stands well in line with Ingvar Kamprad's vision "To create a better everyday life for the majority of people."
IKEA products are beautifully designed to be extremely convenient and affordable. This balance makes IKEA a popular choice for customers of all pocket sizes and is one reason that IKEA has been growing every year for decades now.
The famous Swedish soccer player Zlatan Ibrahimović furnished his LA mansion with IKEA. Before moving in, he was told by a broker "Rich people, they don't go to IKEA". To which he replied, "'No, but intelligent people do!"
Food – The IKEA Restaurants
IKEA restaurants have been an integral part of the stores, since the 1960s. The original idea to start serving food at a furniture outlet simply came out as a way to not let hunger drive the customers out. But a study showed that today, 30% of the customers come to an IKEA store only for the food. IKEA restaurants are estimated to do around $2.5B in revenue, constituting 5% of the company's total revenue. That makes IKEA the 6th largest food chain in the world, and mind you, that's not even their core business!
The largest IKEA restaurant has a seating capacity of 1000 people and is located in Hyderabad, India.
But the food business doesn't only complement the bottom-line of IKEA, it has an even greater role as a salesperson for the furniture. Here's how – for starters, when customers are tired from going about the IKEA maze, they can go to the IKEA restaurant. There they can talk about their potential purchases and make decisions without even leaving the store. Add to that, the sensory experience of eating food and the subsequent dopamine rush in the customer's brain which renders them all hunky-dory. Restaurants are an important part of the larger-than-life IKEA experience!
"We've always called the meatballs 'the best sofa-seller…"- Gerd Diewald, former head of IKEA food operations
Packaging advantages – flat pack furniture
One of the biggest advantages that IKEA has over other furniture retailers comes from what it calls 'flat packaging'. Suppose you have to transport a sofa. Now you load it into a truck, but the space above the sofa remains vacant unless you decide to put another sofa on top of it which of course will damage the one below. Not with IKEA. All IKEA furniture is made in a way that it can be dismembered and compactly packed in a cuboidal corrugated box. When you buy something from IKEA, you receive it in the same compact and flat packaging.
As items can be packed and stored so compactly throughout the supply chain, IKEA saves a ton of money in transport and warehouse storage costs. IKEA knows how important this strategy is and thus, strives hard to make its packaging as efficient as it gets.
"At IKEA, we hate air" – Peter Agnefjäll, Ex-CEO IKEA
A good example is the redesign of the Ektorp series of sofas in 2010, in order to cut the sofa package size in half. It resulted in a decrease in the number of delivery truckloads by almost 7400 during one year and consequently helped IKEA reduce the price of the sofa from €279 to €199.
The IKEA effect – Labor leads to love!
A Harvard Business School study conducted in 2011 showed that people tend to associate a higher value to items they partially created. And IKEA furniture is something that requires the consumer to put in their own labor in assembling the item that has come in flat-packing. Once people put in that effort to get their IKEA furniture in usable shape, they tend to associate a greater feeling of belongingness for the item.
The study also cites the famous American 'cake-mix' saga of the 1950s to drive the point home. Back in the 1950s, a company called General Mills introduced an instant cake mix that required very little effort to bake a cake, cutting the time required by hours. Convenient, isn't it? But the product got poor demand from the market and sent the guys at General Mills to square one.
The psychologists they hired concluded that as the product took away the labor of baking out of the equation, homemakers felt using the instant mix both as an insult to their efforts and cheating their children with a cake made without the effort. When the product was relaunched with a version where it required adding a fresh egg and some other preparations, it became an instant hit. As now it was both quick and still required some labor on the consumers' part.
Labor leads to love. Love leads to loyalty. And loyalty brings the customer back to your storefront. And that's half the job done!
IKEA in India
The story of IKEA entering into India dates a long way back. In 2006, IKEA announced that it has started evaluating the Indian market and may open a store in the next five years. Due to the FDI (Foreign direct investment) policies that restricted foreign ownership to 49% back then, things didn't work out as planned. After a change in policy and persistent efforts for nearly 12 years, the first store finally opened in Hyderabad in 2018. The store is 400,000 sq.ft. in size and is built at a cost of INR 1000cr. ($135M)
In the meantime, it also acquired land in Navi Mumbai, Bangalore, and Delhi NCR region. IKEA Navi Mumbai opened in late 2020 while IKEA has also started an online presence in Hyderabad, Mumbai, Pune, Ahmedabad, Surat, Vadodara, and Bengaluru. IKEA plans to open the currently planned locations in Bengaluru and Gurugram by 2025.
IKEA also plans to open first of its kind 'city-center stores' in Worli, Mumbai. It'll be a store almost 1/6th the size of the traditional store format and will serve as both an experiential center and a retail outlet right inside the city. It'll be interesting to see how much the smaller formats can help boost the sales owing to their proximity.
As far as financial performance goes, IKEA did INR 566cr ($76.2M) net sales in FY20, a jump of 64% from INR 343cr ($46.2M) in the previous year. These numbers majorly represent only the Hyderabad store and online retailing as the Navi Mumbai store was yet to open by the end of the accounting period. The total revenue (including other income) stood at INR 665cr and 407cr for FY20 and FY19 respectively.
While IKEA India has been successful in growing its revenue, the losses have widened. It reported a loss of 720cr ($96.9M) for FY 20, a jump from 685cr ($92.2M) in the previous year. But for a company that likes to play the long game (after all they waited 12 years to open the first store), this is the time to invest and make a stronghold on the market. They can do away with worrying about the bottom line for a couple of years now.
IKEA plans to invest INR 10,500cr(~$1.41B) in India in the coming years. IKEA has ambitious plans for India and its growing middle class. Will the Swedish self-assembly furniture giant be able to replicate its European success in India? This is the decade that'll answer the question!
IKEA of the future and future of IKEA!
In spite of the brand name it has made for itself, IKEA stands in front of some of the most daunting challenges such as the rise of e-commerce and becoming a climate-conscious company.
IKEA has been successful in bringing hundreds of millions of customers to its stores every year. But the way people shop almost anything is shifting to online channels at an ever-increasing pace. Even IKEA posted a 45% growth in its e-com sales in FY20, something that saved its overall sales from dropping heavily during the pandemic-induced lockdowns.
IKEA is well aware of the fact that online sales will become an even more important part of the business, and is thus investing heavily on that front. IKEA India announced that it is focused on reaching at least 100M users in the country by 2022 through online channels.IKEA has also started teaming up with service startups such as Urban Company in India and TaskRabbit in the US for the kind of customers who don't like the DIY part of the IKEA experience. Customers can now hire services of such startups to assemble the product in their homes.
On the climate front, IKEA is pushing hard, because it knows it has to. For a company that uses 1% of the world's total wood supply, allegations for deforestation and illegal timber sourcing are obvious. But IKEA wants to change that. It has an ambitious climate positive by 2030 agenda that includes afforestation and renewable energy goals. It now owns 616,000 acres of forests.
IKEA has also invested heavily in renewable energy sources. The Ingka Group (largest franchisee of IKEA stores) owns and manages 547 wind turbines, 10 solar parks in 15 countries, and 935,000 solar panels on the roofs of IKEA stores and warehouses, bringing its total installed renewable energy power to more than 1.7 Gigawatt.
In line with its climate-conscious efforts, IKEA has started using biodegradable packing made out of mushrooms. In addition to that, it introduced a new type of meatball in its restaurant this year. The special thing about the meatballs is that they don't have any meat. Plant-based meats are an increasingly growing trend and IKEA doesn't want to miss out on that, especially when that is good for the climate.
To learn more about the world of plant-based meats, please refer: https://businessbar.net/all/ctrlaltdelete-meat/
IKEA has been a revolutionary company, redefining furniture retail for decades. But now that the father of IKEA, Ingvar Kamprad is gone leaving behind a one-of-a-kind legacy and 3 of his sons to run the company, it finds itself surrounded by challenges of ever-changing consumer trends. Will the investments in digital and expansions into newer markets fare well for IKEA in the coming decades, or will this behemoth head towards its farewell!? Let us know your thoughts.
Till then, here are some interesting facts about IKEA!
Recommended Articles:
BTS – Journey to becoming a Global Music Powerhouse
Airbus and Boeing – The AB(C) of Aviation