Live shows and streaming obviously need no introduction. Ever since Covid-19 hit, Netflix and other OTT platforms have become household names, with most urban Indian households having at least one subscription among the plethora of options available. The advent of Youtube and TikTok took place simultaneously with each of them competing for the same set of eyeballs.
So much so that an average YouTube user now spends 19 mins daily on the platform, whereas on TikTok it's 52 mins! Nearly one-fourth of the world's population is on these platforms. But what's next? What's better than a pre-recorded edited video, what's more original? Can there be anything more engaging? The answer lies in Twitch, a leading platform competing against the existing mammoths like Netflix, YouTube, and so on. But before we get there, let's start with a quick tour of the world of live streaming.
The internet transcended from text to images (think Instagram) to short videos (TikTok world) pretty quickly. Now, we have officially entered the era of live streaming. There is an innate desire for video content, with the growing popularity of Instagram reels, TikTok it only makes sense that something like Twitch or live streaming, in general, would gain a lot of traction. Live streaming is the evolution of live TV, offering endless content accessibility for free through multiple devices.
The live streaming sector is a growing market, estimated to reach $4.2Bn by 2028. The market stood at a revenue of USD 988 Million in the year 2021 and is expected to grow at a Compound Annual Growth Rate (CAGR) of 23.5%. Be it professional or user-generated content, the openness, and authenticity of live-streamed content appeal to many viewers. Unlike pre-recorded videos that can be cut and edited, live streaming is just that – live and uncensored.
Live Streaming Across Industries
In the entertainment industry, the popularity of live streaming as a format has been linked to the gaming world, with the leading platforms in the sector amassing around 8.2Bn hours of content watched. In the events sector, the possibility of broadcasting live concerts online represents an opportunity for artists to keep performing during the ongoing global coronavirus pandemic. 41% of performers reported going live once a month or more as of March 2021. Awards shows, sports, boxing matches, video games, and special one-time events are the other popular types of live streaming with an ever-growing menu of topics.
Social media platforms and others, broadcast everything from celebrity events, promotions, and live streaming to streaming between users. You can live stream on any compatible smartphone, tablet, TV, computer, or gaming console with a relatively fast internet connection.
Live streaming has paved its way into e-commerce with a number of startups working on evolving social commerce opportunities. 'Whatnot' is an online platform offering used collectibles (like Pokemon cards), where sellers hold live auctions of different items and buyers can make transactions using Whatnot's platform. TalkShop is an online live streaming platform for multi-category products. Its product offerings include beauty care products, apparel, fashion accessories, food & beverages, etc.
Attention is the single prerequisite to accomplishing nearly anything involving another party's participation. It's this simple: you can't sell someone your newest product without first having their attention… seeing the ample amount of attention on Twitch, I've decided to create my own Twitch channel

Gary Vaynerchuk on why he's going all in on Twitch
Medical live streaming, recently, has proved to be beneficial for containing the spread of infectious diseases like Covid-19. Things like remote patient monitoring, virtual interaction with doctors, and the use of healthcare robots have surged in 2020 — all of which reduce the need for people to physically interact with one another in hospital settings. Some other ways live streaming has been used in the medical sector are live streaming surgeries, remote monitoring and diagnostics, health webinar, and live streaming medical conferences.
In the fitness sector, various platforms like Mindbody, gymGo, Classpass, etc offer live virtual workouts and one on one virtual, on-demand training sessions with personal trainers.
In the past couple of years, live streaming has also been one of the hot topics in venture town.
Audience engagement application for live stream events StreamAlive, a New Jersey-based startup, works on improving audience interaction during live streams with their AI/ML-powered solutions. Bolo Live is a streaming platform that enables small streamers to monetize their broadcasts.
Indian Startups are getting in too
Rooter and Loco are Indian gaming streaming platforms built for Indian gamers where a majority of streamers are into mobile gaming rather than PC games. Yes, we're talking about BGMI and COD Mobile gamers, etc. While YouTube and Twitch still remain the audience's preference for all gaming content, Loco has been a game-changer for the country when it comes to catering to the hunger for regional content.
With over 10m downloads on the Google Play Store, Loco aims to equip India with the best streaming technology the country has to offer, specifically tailored to a regional audience. Loco has grown rapidly over the last year, with daily active viewers scaling by 15x, monthly active viewers scaling by 8x, monthly active streamers scaling by 5x, and live watch hours scaling by 78x since Jan 2021.
Today, highly active users spend over 1 hour daily on Loco, making it the gaming community's platform of choice for a seamless streaming and highly engaging fan experience. Rooter is a leading player in the Indian gaming category with 8.5Mn monthly active users and over 30Mn downloads. In 2016 Rooter has scaled up massively by creating a community of game streamers by making technology that is unique in India. The company makes a revenue of $2.4Mn ARR and wants to scale up to $12-15Mn in 2022.
The leading platform in the live streaming industry however is Twitch. It is responsible for ~92 minutes daily among its users and although it has only 140Mn MAUs, it is focused and built for power users. According to Twitch itself, Twitch is an interactive live streaming service for content spanning gaming, entertainment, sports, music, and more.
The most viewed category right now is Just Chatting, which has anything and everything. "Just chatting" refers to a stream where the streamer is just interacting with the audience over some topic. It could be him streaming a podcast or him watching the Amber Heard v Johnny Depp case, or just sitting and chatting with his/her audience. Live streaming has endless possibilities when it comes to the type of content, let's see in detail how Twitch fits into it!
But what is so special about Twitch?
Twitch or Live Streaming, in general, is different from TikTok, YouTube, and OTT where the content you see isn't exactly "live". A content creator on Twitch is a streamer. One can't have pre-recorded videos on Twitch. A streamer can even start by streaming his/her life on Twitch as seen by their GoPro. One of the most popular categories on Twitch is live streaming of online games, where gamers broadcast themselves playing video games/e-sports. Over time it has also become common to host live concerts or even casual chat streams.
Twitch was founded way back in 2011, but surprisingly little is known about it outside the community of Twitchers. It has slowly grown to serve over 8Mn streamers/content creators and 140Mn viewers each month, reporting a revenue of $2.3Bn in 2020.
The success of Twitch over the years brought the attention of giants like Google and Facebook too. Its most serious competition, Periscope, launched in 2014 was acquired soon and was recently shut down by Twitter in Dec 2020. Three years after its birth, Twitch was acquired by Amazon for $970Mn.
Just before the acquisition, it was reported that Google had agreed to a deal to acquire Twitch for $1Bn. That deal, however, was never officially confirmed. Since Google already owns YouTube, the world's largest video streaming site, acquiring another massive video streaming site like Twitch could raise antitrust issues. However this didn't stop Google from venturing into live streaming and soon in 2015, YouTube launched YouTube Gaming—a video gaming-oriented vertical for videos and live streaming. Facebook (now Meta) also joined the live streaming frenzy with the launch of Facebook Gaming in 2018.
Twitch alone has over 30Mn DAUs, at any given point there are 2.5Mn users watching Twitch streams. In 2021, Twitch had a total of 24.03Bn watch hours compared to the 5Bn hours watched on YouTube Gaming. Let's compare these numbers to YouTube (not YouTube Gaming), which has an enormous 2.6Bn MAUs and over 122Mn DAUs. YouTube has over 20 times MAUs as Twitch but a mere 4 times DAUs, showing how a Twitch user's engagement is more than that of a Youtube user. A YouTube user spends an average of 19 minutes on the application daily whereas a Twitch user spends five times that number daily.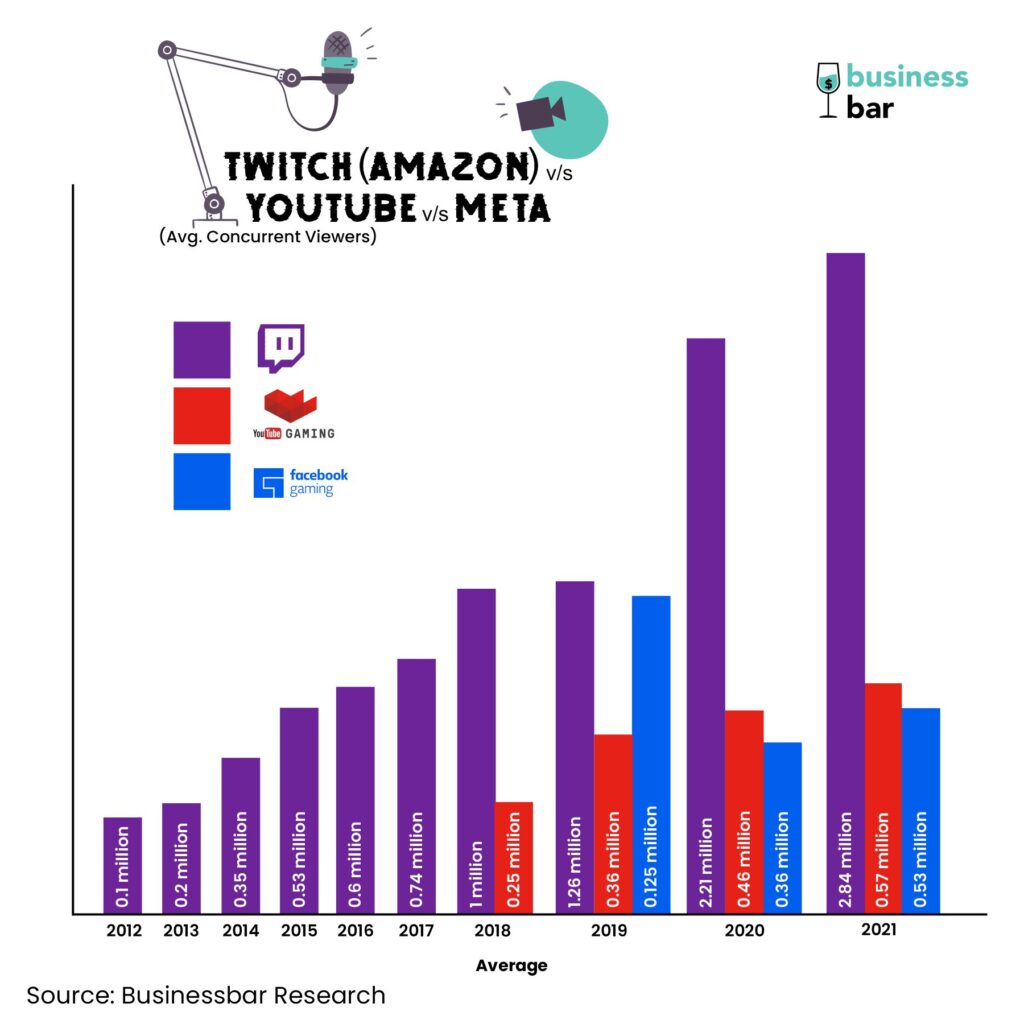 Gaming and How Twitch makes money
Gaming is an experience that induces the player within and is even addictive. Not only for the players, but it is also enticing for the viewers, who watch others playing the game. Similar to watching Cristiano Ronaldo play the sport he's good at on ESPN, here you watch a gamer play an e-sport on Twitch. Twitch works on this principle and makes money by streaming live gaming and sports competitions.
All kinds of games and sports tournaments are streamed over Twitch. Individual users can stream any sort of activity or game over Twitch whereas organizations like UFC, NBA, ESL, or our very own Indian organization Global E-Sports can stream their events or tournaments entirely over Twitch. Viewers can freely watch the streaming games and other content on Twitch without registration, while broadcasting requires free registration for the gamers.
Last year the Twitch platform clocked a daily average of 2.2Mn hours of content streamed across various categories and 59Mn hours of viewership with just 30Mn DAUs. The Twitch content can be accessed through PCs, smartphones, and gaming consoles by using dedicated apps and web browsers. For the content producers i.e. the gamers and organizations, Twitch provides dedicated software for streaming videos, and APIs and SDK for integrating Twitch with web apps and game devices.
But the question arises, how do Twitch and Twitch streamers make money out of simply streaming a video game over the internet?
How Twitch makes money?
Let's look at the different revenue generation methods adopted by Twitch:
Advertisements – Advertisers pay a certain amount of fee to flash their advertisement on the Twitch platform. Twitch also allows for non-traditional marketing strategies like partnerships with Twitch influencers, similar to the strategy popular on platforms like Instagram and Facebook.
Subscriptions – Users or viewers who subscribe to the Twitch streaming service are spared from any advertisement. Hence, they pay to Twitch a monthly subscription fee. Viewers can also subscribe to a particular streamer(gamer streaming on Twitch) and not to Twitch as a platform. The streamer gets 50% of the price paid per sub, the rest goes to Twitch. This model of Twitch is something similar to a Patreon.
Twitch Partners: Twitch runs a partner program for the streamers where they affiliate with Twitch and any video they stream makes them earn a part of the value generated by the ads on their channel.
How do Twitch streamers make money?
As visible from the infographic above, the closest competition to Twitch is from Youtube gaming. However, twitch differs from YouTube gaming in a number of ways.
On Twitch, viewers will find new streamers based on the game they're streaming. Twitch's algorithm will likely recommend new viewers, too, based on the length of time they've watched that game previously. YouTube gaming on the other end only recommends based on the popularity of a channel and the type of content hosted by that channel.
You can still be recommended as a stream to viewers on YouTube, but it's increasingly likely that newer streamers are priced out by bigger names. Most YouTube channels focus on video creation as a result, building up videos they can publish at their leisure to build their audience, rather than streaming consistently. This has created a bit of a contrast between the two platforms, where streaming on YouTube centers around big game releases and on major YouTube personalities whereas on Twitch a streamer's popularity is driven by the popularity of the game and hours streamed.
Small streamers, those with an average viewership of 75, can earn anywhere between $50 to $1,500 per month depending on their subscriber count, viewership, and how generous their followers are. A streamer who averages around 1000 viewers can expect to make $2500 per month just from Twitch. Usually, streamers are able to get brand sponsorships and are able to make their income from multiple other sources once they gain some popularity.
However, the story is completely different for the top Twitch streamers. Top streamer, Richard Blevins aka Ninja takes home $58,000 a month from Twitch. This estimation does not include the money Ninja makes from sponsorships, brand deals, selling merch, donations, and other income sources that are difficult to track.
Ninja makes far more money from his overall brand than he does from advertisements on YouTube/Twitch. If we were to include those, Ninja's estimated monthly income would be closer to $500K per month. Overall, while one probably shouldn't expect to make this much from Twitch, it's interesting and exciting to know that this level of success is possible from the platform.
The likely future for Live Streaming
With the surging viewership of live game streams globally, live streaming platforms are setting a new benchmark in the content creation space. Business models in the gaming industry have evolved in tandem with improvements in hardware, processing power, bandwidth, and internet penetration, making high-quality games more accessible across smart devices.
Even though live streaming is a relatively nascent industry, the possibilities in the industry are endless with all the big players like Meta, Google, and Amazon acknowledging that potential and innovating. It won't be long before "Twitch" becomes a common name in households, at least among the young folks.
The previous generations grew up watching and discussing movies. Going to theaters to watch the latest movies or waiting on television for their pictures to the premier was something everyone shared in common. This desire to watch theater and socialize through it led to the birth of OTTs which have now expanded into an enormous ever-growing industry.
The recent and coming generations will grow up in the age of laptops, mobile phones, and consoles and had unlimited access to the internet. The internet has bought the world closer through various social media platforms and the new generations are all about it. The Live-streamed content gives viewers a way to connect with their favorite gamers and celebrities and brings with it an immense opportunity to turn their passion into a livelihood.
BusinessBar thanks Sarthak Khandelwal for his contribution to this article.
We have captured the information best available in the above article, feel free to write to us in case of any data correction.